Without End: A Melrose Shops Novel
By AR Senault
Kindle Price: $0.00
Paperback Price: $6.99

A turbulent sexual renaissance is brewing on Melrose Avenue, and Dr. Claudette Boucher is about to expose it.
WITHOUT END is an erotic contemporary romance that will have you laughing, crying, and wishing desperately for an elevator to open and change your life.
Four beasts of sex-personified are inspiring a sexual revival from their barbershop on Melrose Ave. Dr. Claudette Boucher, popular radio personality and sex therapist, gets caught up in the resurgence when she's commissioned to write an article about unusual places to seal a date in Los Angeles. After meeting Dino Pantopoulos, she knows she'll get more than just her name published.
However, Claudette's atypical research techniques leave Dino wondering how to tame her, and
Dino's overbearing Greek mother has Claudette's Freudian radar on high alert.
Claudette isn't about to alter her research or her sexual proclivities for anyone. But Dino's mastery of sensual conquest has Claudette rethinking her relationship priorities.
Dino's unrelenting charm weakens Claudette's quest for self-preservation. As sparks settle from the couple's emotional and explosive courtship, a tragedy threatens to destroy their newfound happiness.
Will Claudette survive and keep her promise to love Dino Without End?
WITHOUT END is a standalone novel, brimming with quick wit, charm, and unforgettable characters.



Author AR Senault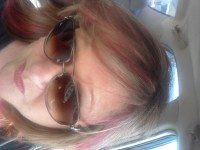 Author of the wildly funny and sensual Melrose shops novel, WITHOUT END.
To escape the pressures of life, I began writing. Creating a flawed, yet perfectly endearing man was my escape. Realizing I could create more than one, was my salvation.
I enjoy traveling, reading, listening to music, and hiking. I'd rather go to Yosemite or the Sequoias for a family vacation than stand in line at an amusement park. I don't mind getting dirty, I'll often chose beer over wine, and I'm a diehard sports spectator. Yet, I also harbor a healthy appreciation for the smell of Nordstrom department stores, theater, the ballet, modern dance, concerts, pricey sunglasses, a perfect martini, and designer shoes.
I appreciate feedback and encourage readers to enter a library every so often to smell the b
Connect With AR Senault