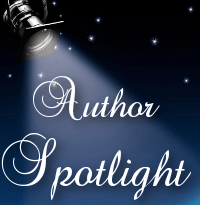 Today Lovely Books Shines The Author Spotlight On…
Val Muller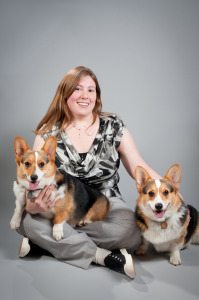 Author, editor, and cover designer, Val Muller is the author of the kid lit mystery series Corgi Capers and The Scarred Letter, a young adult reboot of The Scarlet Letter. She is owned by her two corgis, Leia and Yoda, and lives in Virginia with her husband. You can keep track of her at www.ValMuller.com and www.CorgiCapers.com.
Author Interview
How long have you been writing? When did you decide to become an author?
I have been writing since as soon as I could hold a pencil. I always knew I wanted to be an author, but I started taking it seriously after a dream in which my grandfather–who I never met–encouraged me to pursue my dream.
How do you find inspiration?
Corgi Capers, my kid lit mystery series, is inspired by my two corgis. One is afraid of everything, and the other is afraid of nothing. In my old neighborhood, kids always came up to me and asked what kinds of adventures my dogs had during the day while I was at work. I ended up making up stories on the spot, and the idea stuck. Aside from that, I find inspiration in dreams, which I'm sure are the product of my observations boiling away in my subconscious.
How do you go about writing a book? Do you have any schedule, tricks or tips to share?
I try to write the first draft as quickly as possible–while everything is juggled in my head. That way, I remember plot arcs and characters. As a teacher, I do a lot of drafting during the summer, and then during the school year when time is more limited, I do much of my editing and rewriting.
What kind of books do you read? Who is your favorite author?
My favorite author is Ray Bradbury. He always said he wasn't a sci-fi author, and it's true. Though his stories take place against a speculative backdrop, he wrote about human beings and the human condition enduring far into the future–and the past.
What are you currently working on?
I've got a young adult (realitic fiction) in the works that's got the spirit of The Chocolate War with the questions of books like 1984.
If you could have any superpower, what would it be?
I would become a Time Lord and travel the universe in my TARDIS 🙂
Do you listen to music when you write? If so, what kind of music?
I do prefer to work with music, but only if it's instrumental or in a language I cannot understand. Words are distracting. Erutan is my current personal favorite. The best writing periods, however, are those in which my CD has stopped playing, but I'm too involved in my writing to notice.
Who is your favorite villain?
That would have to be Jareth, the Goblin King in The Labyrinth. Aside from being played by David Bowie, I like the fact that he tempts the protagonist to her own demise. My favorite stories are ones flavored like tragedy–in which the protagonist is tempted toward their own demise (but in my favorite stories, the protagonist wins in the end).
If you had to pick between receiving a million dollars today, or $1000 a month for the rest of your life, which would you choose?
I'd take the million now and invest it.
If you could take anyone out for coffee, dead, alive, or fictional, who would it be?
I always wanted to talk to Ray Bradbury, though Tesla would be a close second.
Books by Val Muller
Connect With Val Muller