Stirring Attraction
By Sara Jane Stone
Kindle Price: $2.99
Paperback Price: $4.99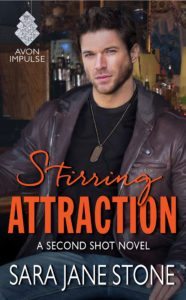 When Dominic Fairmore left Oregon to be all he could be as an Army Ranger, he always knew he'd come back to claim Lily Greene. But after six years away and three career-ending bullets, Dominic is battered, broken, and nobody's hero—so he stays away. Until he learns Lily has been the victim of a seemingly random attack. He'll do anything to keep her safe . . . even go home.
Lily is starting to find a life without Dominic when suddenly her wounded warrior is home and playing bodyguard—though all she really wants is for him to take her. But she refuses to play the part of a damsel in distress, no matter how much she misses his tempting touch. He'll leave as soon as she's safe and Lily knows her heart will never heal.
But as attraction stirs to so much more, danger closes in. With more than Lily's heart at stake, Dominic can no longer draw a line between protecting Lily and loving her . . .



Author Sara Jane Stone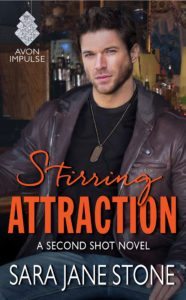 Sara Jane Stone lives near New York's Hudson River with her very supportive real-life hero, two lively young children, a lazy Burmese cat, and a very active dog. When she is not finger painting with the kids, she loves writing sexy stories, staying up past her bedtime reading red-hot romance, and chatting with her readers on Facebook.
Connect With Sara Jane Stone