Out Comes a Bloodsucker
By Mayylin Bay
Kindle Price: $2.99
Paperback Price:




Trinity was never the type of girl to make friends. Frankly, she found humans quite boring.
She lived in her father's mansion which was normally empty, and one day while she was drunk, she accidentally discovered her father's secret basement.
After solving a puzzle, she unlocks a portal through a mirror, letting a vampire through.
She never realized how sweet and gentle vampires were, or how good they were in bed.



Author Mayylin Bay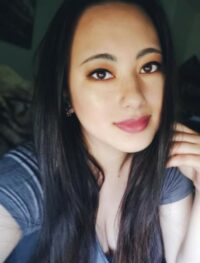 Mayylin Bay, born in 1996 in the Philippines, has been writing since she was a little girl. It was always her dream to be in a career where she could create new worlds and get paid for it.
She currently lives in Alaska with three crazy but lovable dogs, and two lazy cats.
Connect With Mayylin Bay
text&rh=p_27%3AMayylin+Bay&s=relevancerank&text=Mayylin+Bay&ref=dp_byline_sr_ebooks_1″ target="_blank" rel="noopener noreferrer">Amazon