No Room In His Heart
By Bonita Y. McCoy
Kindle Price: $0.99
Paperback Price: $5.99

"It is a sweet love story with a Hallmark ending that gives you a warm, happy feeling." Amazon Review
No Room in His Heart … A sweet, funny romance with lots of zing.
Evie Anderson is trying to get home for Christmas. But when her car breaks down on an Alabama highway, her only help in sight is at a near-by inn. To her surprise, the inn nor its owner are quite what she expects. One looks haunted, the other looks hot. Now, with her parents in California and no way home, will Evie discover love and forgiveness can be found in the oddest places or will she give up before she sees the truth?
Nick Russo wants a fresh start. He's lost too many people he cares about in his life time, and he's not willing to take any more chances. That is until Evie Anderson knocks on his door and starts spreading Christmas cheer all over his cottage. Can Nick find room not only in his home but in his heart for this sassy southern woman or will he close the door on love forever?



Author Bonita Y. McCoy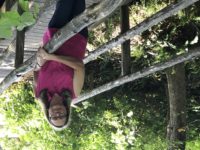 Bonita Y. McCoy hails from the Great State of Alabama where she lives on a five-acre farm with three cows, two dogs, two cats, and one husband who she's had for over thirty years. She is a mother to three grown sons and two beautiful daughters-in-law, one who joined the family from Japan. She loves God, and she loves to write. Her blog and novels are an expression of both these passions. Drop by and visit. Facebook Author's Page or visit her website bonitaymccoy.com .


Connect With Bonita Y. McCoy