How to lose 40 inches in 60 days 2 for 1 diet book
By JP Latham
Kindle Price: $0.99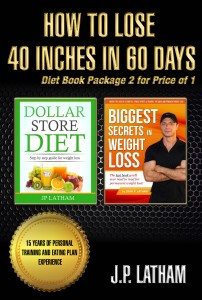 Do you want to lose 5 pounds fast, drop 40 inches in 2 months-total body inches? Use this easy to follow plan.
Picture yourself with that body that you have always wanted.
Have fun and get motivated with this easy to use fat slashing method. Why not save money along the way?
Latham says if you are not 100% satisfied with your results. Then please get your money back.
Exclusive to this book: BON– USES listed below that are Not included in Dollar store Diet or Biggest Secrets in weight loss.
Nutrition rules
Master food list
13 myths of weight loss-Downloadable pdf
Extreme eating to drop body fat fast-the low carbohydrate fat blaster.
Copy of "measurements" you can print off and use.
The extras in this book amount to a book. So, it is really 3 books in 1
2 for 1 discounted price. Dollar store diet combined together with Biggest secrets in weight loss.
Dollar Store diet: How to save money and lose body fat by shopping at the Dollar store
This book will give you a shopping list for a weight loss program. Its not just low cost foods, but more about making the right choices in a limited situation. If, you are low on funds it is more than likely you also need a clear cut plan on how to STAY on your plan. Convenience more times than not will play a huge role in your decision making..
You will also find in this book:
3 week food eating challenge
"The SURVIVAL KIT"shopping list for your workout and eating plan
Your mindset of your initial days of your fat loss journey
Creating your own fat burning workout
JP's favorite fat burning recipe
How to put it all together to work for you
Biggest Secrets in weight loss
This book alone will give you fast and long term weight loss results. JP has knack for keeping you really motivated. Its not just one secret but the insight on how a person can get the "toned" look that everyone wants
You will also find in this book:
The weight loss secret
Accountability-the power of your pen and paper
How to achieve that exact TONED look-what% of body fat it will take
Your mental approach to your weight loss and workout
Fat burner method
Setting achievable goals
More information on JP:
As a child growing up in Arkansas he witnessed his father suffer through numerous heart attacks and eventually receiving a heart transplant. That left an early, but a real life impact with him. If, you have lived through a moment like this then you know exactly how to find away to get better.
"I bought my first fitness training certification at the age of 16. I flipped burgers at my local fast food "restaurant" hang out. Saved up enough of the money to buy my certification. By the time I was 19 years old I was a certified fitness trainer. I scored in the top 5% of my test. I was also working in a fitness center" JP



Author JP Latham

JP's experience:
15 years of personal training and nutrition experience.
You can use and reuse the information in each book! All his books are based on his real life experience. Each book has multiple solutions for weight loss!
In his spare time he LOVES hanging out with his kids! He also likes to talk to his dogs! They just smile and act happy!
More about the author
"I bought my first fitness training certification at the age of 16. I flipped burgers at my local fast food hang out. Saved up enough of the money to buy my certification. By the time I was 19 years old I was certified fitness trainer. I scored in the top 5% of my test. I was also working in a fitness center" JP