Price: FREE
01/30/2023 – 02/03/2023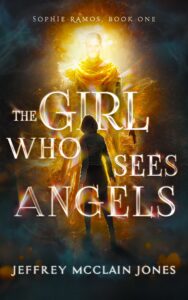 Lights in the darkness, shadows in daylight, she has seen them all her life, and feared them. Can she break free now? Does she really want to?
Sophie Ramos has always thought she was cursed and maybe crazy. Even her mother doubted her when she was a child. Priests and psychiatrists doubted her too. But psychics tried to recruit Sophie to enrich and empower themselves.
Now she's thirty-two, living on her own, keeping her secret from everyone except her mother and a few close friends. But a threatening specter begins to visit her at night, and more than her sleep is at stake.
She follows a friend's recommendation to visit Detta Washington, a church lady who believes in the spirit realm. Detta becomes convinced that Sophie sees angels and demons. Even if Sophie is skeptical about Detta's labels for what she sees, she comes to respect the older woman.
When Sophie helps free Detta from an incurable disease and releases two of her friends from creepy creatures shadowing them, Sophie starts to embrace her identity. But she still needs help with the ghoul that hovers above her bed at night. And that's not the last enemy who will threaten her in the dark.
Recovering from a life of being condemned as a crazy person, Sophie finds new confidence. She is gifted. She is the girl who sees angels.