Price: FREE
01/02/2018 – 01/03/2018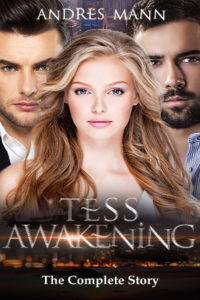 This book provides the full story of Tess's confrontations with the fascinating villain Amir by combining two previously published novels, Tess Awakening and Tess Valkyrie.
A fast-paced action romance novel set during the second Gulf War in Iraqi, three remarkable people are caught in a web of obsession and deceit. Tess is a military helicopter pilot; beautiful, aggressive and relentless. Two men are in love with her: Jake, a brilliant CIA agent and Amir, a wealthy, charming, sophisticated but dissolute Iraqi general who initially captures Tess and becomes obsessed with her. Tess escapes but must fulfill a commitment to take something from Amir. After meeting in Istanbul, Amir persuades Tess to spend time with him in France and England in exchange for what she is seeking. Here she meets Fadime, his alluring and decadent sister. In the end, Amir deceives Tess. She returns to Iraq, trying to overcome her heartbreak by flying dangerous missions and rescuing wounded soldiers. An unforeseen event changes everything. Tess, Jake and Carmen continue to square off with Amir in an epic struggle, all wanting the same thing. They repeatedly clash in a succession of encounters in Baghdad, Amman, Istanbul, Sorrento and New York. A heartbreaking loss at the end is redeemed by a final poignant resolution.