Price: FREE
06/21/2015 –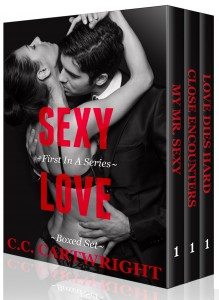 SEXY LOVE BOXED SET
3 First-In-A-Series Sexy Novels
My Mr. Sexy 1 (New Adult Office Romance) – Get Ready for a Wild and Sexy Ride as Marissa Monroe struggles to choose between the two hot men who want her…who will be the ONE man to satisfy her craving for love?
Close Encounters 1 and 2 (New Adult and College Series) – Four beautiful and fun loving college coeds embarking on their first year at USC, each wants to experience everything college has to offer. One of them is a naughty girl and challenges her new roommates, who can have the most Close Encounters in one month. Clarissa succumbs to a forbidden tryst with the hot English Professor Montgomery, who all the girls sit up front for. Deena, Kara and Lexi's escapades follow in the series. Don't miss this fun, hot and naughty series!
Love Dies Hard 1 (Billionaire Romance Series) Marcus Hunter is a player and heir to Hunter Investments. He doesn't do love. However, he does become intrigued with his equal, Sophie Shawn who is a smart, sharp witted and sexy as hell fellow Money Manager at Hunter Investments. He intends to bed her, but little did he know that he would be the one in for a surprise from Miss Sophie Shawn. This is a sizzling hot series you don't want to miss!