Price: FREE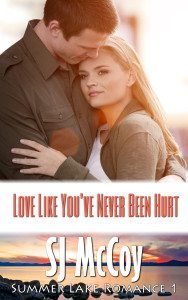 The Summer Lake contemporary romance series follows a group of friends from a small lakeside town in the California hills. They have kept in touch over the years and now, in their early thirties, their lives are drawing them back to Summer Lake and to each other.
Love Like You've Never Been Hurt
Emma Douglas came to Summer Lake as an orphan twenty three years ago. After losing her parents so young and later suffering a disastrous marriage, she believes that love only ever leads to pain and loss.
When she meets Jack Benson, the business partner of her childhood friend Pete, she sees everything she used to long for in a man; tall, dark, and drop dead gorgeous! Despite their undeniable attraction, Emma is too scared to risk her heart, especially on a man so much like her ex – sexy, smart, funny, successful and no doubt the same kind of cheat!
When events lead them both to Summer Lake for the summer, will Jack be able to persuade her that he's nothing like her ex in all the ways that really matter? That the love she used to dream of isn't a little girl's fantasy, but a reality they can share if she can get past her fear and learn to trust?
This book is intended for adult readers 18+