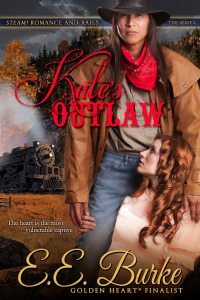 She's an heiress with dreams of running her father's railroad. He's an outlaw determined to stop the Katy at all cost.
With bankruptcy looming, railroad heiress Kate Parsons decides to take negotiations with an Indian tribe into her own hands. Her plans go awry when she's abducted, and worse, finds she's attracted to one of her Cherokee captors, a man so compelling he could steal more than her fortune if she doesn't escape.
Jake Wolf didn't intend to kidnap anyone. But after a botched burglary, he's stuck with a white woman whose fiery curls are as bold as her personality. When his partner threatens to kill her before she can expose their scheme to save their land, Jake takes off with his beautiful captive. Now, he must protect the woman he's named Redbird, and at the same time prevent her father's railroad from steaming ahead.