Price: FREE
05/03/2023 – 05/05/2023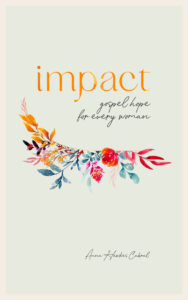 "God's Good News is so beautiful, profound, and far-reaching, we won't fully grasp the enormity of it until we see Jesus face to face. Yet, as we walk with Him, God reveals to us more than we could ever imagine."
Impact brings to light the Good News, which has the impact of setting us free from common issues we face as women: conformity, idolatry, other-perfectionism, pride, envy, control, guilt, condemnation, and self-perfectionism.
This book will help you discern your areas of struggle, and reflect on the Good News of God's Character, God's Design, and God's Redemption, so you can walk in the hope of freedom.
It's my prayer that you will join me in this journey of discovering the beautiful impact of the Gospel and that together, as God's children, we grow in uniqueness; true worship; grace; humility; love; surrender; repentance; discernment; and rest.
May we glorify our Heavenly Father, as we grow in the truth that sets us free.