Price: FREE
04/15/2023 – 04/17/2023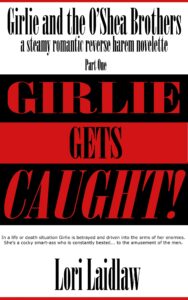 "Girlie and the O'Shea Brothers" is a series of steamy-romantic reverse harem novelettes.
In a life or death situation Girlie is betrayed and driven into the arms of her enemies. She's a cocky smart-ass who is constantly bested… to the amusement of the men.
"Excellent !!!!! Brilliant – The title did the exact thing it was supposed to do. Really good story."
The second story, "Girlie's Escape", is also free during this promotion so readers can enjoy more!
"Fabulous! What a wonderful story – I loved it"