Price: FREE
02/22/2023 – 02/26/2023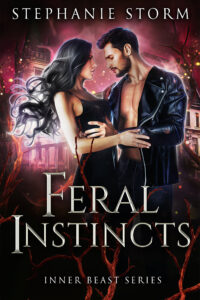 An innocent mortal—who dies before living. A devoted alpha—who lives for others. Can they overcome centuries of hatred to follow their hearts?
Ava's life is on a slow train to nowhere. After a tragic loss, she delays pursuing her dreams, not knowing a psychotic vampire plans to steal her future. Too late, she's rescued by a tantalizing beast, not that she can judge, since Ava's the one who's bloodthirsty.
Teagan's determined to make his legendary father proud. Despite his reservations, the future packmaster agrees to help the vampires track a killer to secure their alliance. Saving an irresistible newborn wasn't part of his plans.
When Ava conspires with the vampire clan leader to help capture her sire, her tempting hero threatens to wreck her resolve. Should either of them give in to their hunger, it could lead to their destruction.
Can Ava and Teagan resist their forbidden attraction while saving innocents from a ruthless killer and his devastating drug? Or will the hunters become the hunted?