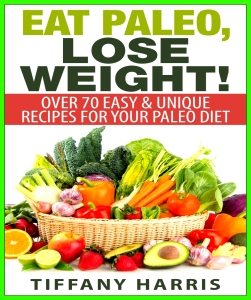 New Paleo Recipes Are Here & For Free (For a Limited Time)!
The Paleo Diet has been shown to melt the fat off of your body and improve your overall health. It has also been proven as a way to lose weight without EVEN TRYING! According to the European Journal of Clinical Nutrition, 9 people consumed the Paleo diet for 10 DAYS. Here were their health results afterwards….
Weight Loss (9 lbs average)
Total Cholesterol went down by 16%
LDL Cholesterol went down by 22%
Triglycerides went down by 35%
Insulin AUC went down by 39%
Diastolic Blood Pressure went down by 3.4 mmHg
Could you imagine what would happen if you followed the Paleo Diet for 30 days?
THIS BOOK IS YOUR ONE STOP, PALEO SHOP WITH OVER 70 RECIPES AND THE PICTURES TO MATCH!!!!
Appetizers
Soups
Breakfast
Dinner
Lunch
Chicken
Lamb and
Pork recipes
The basic aim to write this cookbook is to help you prepare some of the finest and the healthiest Paleo based recipe, which are nutritional, healthy and mouth-watering. You are going to enjoy this cookbook from start to finish!
Grab Your FREE Copy Now!