Price: FREE
01/11/2023 – 01/15/2023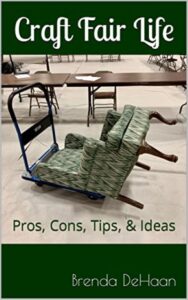 Get the inside scoop on what it's like being a craft fair vendor.
Every job has its advantages and disadvantages, but being a craft fair vendor is a little different. It is one job that you choose to start at a certain time in your life, and you control your work schedule.
For many, this creative endeavor provides a supplemental income. Is being a vendor the right side-hustle for you? This book may help you decide or may reinforce your decision and spark ideas if you are already selling your handicrafts.
Like all entrepreneurs, you want to consistently improve your business. Craft Fair Life discusses various aspects of being a vendor, such as pros, cons, table layouts (with 1-3 tables, including the Z formation), DIY display props, and more. The real-life photos from various craft fairs illustrate the points.
This book is divided into four main sections: People, Places, Things and Ideas, and Craft Fair Overview. Whether you are considering becoming a vendor or upping your craft fair game, this book will help you determine your best strategy.