Price: FREE
04/04/2023 –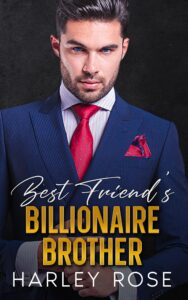 One sexy wink, a baby, and a fake marriage.
Gavin has been taking up space in my mind for years.
But he is off limits as he is my best friend's brother.
He is a successful billionaire businessman, but I was attracted to him before his success.
Gavin is incredibly hot, has a body to die for, and eyes that look straight into your soul.
I was partying with my best friend, Gavin's sister when he winked at me.
He makes my knees weak, and I want him.
But it is so wrong….my best friend would kill me.
Gavin is hard to say no to.
I would be able to get him out of my system and move on with my life.
Until he had a business proposal for me.
I can separate business from pleasure…how hard could it be?
It was only one time. My friend would never know…until she had to.
Two pink lines.