Price: FREE
02/24/2023 – 02/26/2023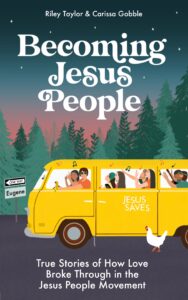 "Becoming Jesus People" contains 19 stories of young people who directly and personally encountered Jesus during the early 70's. These are true accounts, taken from the individuals' actual words and experiences and told through their eyes. They all ended up in Eugene Oregon at a place called Liberation House. It was just one corner of a much larger cultural shift, but these tales illustrate accurately the power, drama, and beauty that was the Jesus People Movement. They will warm your heart, astound your mind, make you laugh, and stir your faith. You will have a hard time putting this one down.
The book shows how each person started their journey from a different location in the US, but all were looking to find spiritual meaning and true love. Some knew they were searching, while some were ambushed by a revelation that their souls were in fact starving. We observe through their eyes as their voyages traverse a vast cultural map: running from the draft, seeking peace in the Sahara Desert, being targeted by racist gangs, contemplating suicide, a rock festival gone wrong, taking LSD to connect to the divine, deep dives into existential philosophies and eastern religions, and deconstructing of inherited religious upbringings. In the end, God persuaded each, sometimes tenderly, sometimes dramatically, but always with an intimate personal touch, that what they were searching for all along was Jesus.
The 60s & 70s, known for the Cold War, impending nuclear doom, Woodstock, Vietnam, assassinations, political mayhem on campus, psychedelics and free love, were in many ways a time of pervasive spiritual darkness and moral slide. But at the low point of this era, a revival broke out among young people across America, which is now known as the Jesus People Movement. Standing at a distance of 50 years, we can see that this movement started on the West Coast and spread to North America, Europe, and Central America, sweeping hundreds of thousands into relationship with Jesus and His church.
Co-author Riley Taylor has told his own conversion tale here along with the others. He served as a leader at the Liberation House for three years, where he got to know all the people whose stories you will read in this book. Within its pages you will see the living God show up to bring light when things looked darkest, and hope where desolation ruled. You will be amazed to see Him supernaturally draw these people, capturing their fascination with Himself and His Son, breaking through their disinterest, disillusionment or even hostility towards Christianity. And you will see His Spirit using this same unpolished group to share their new-found relationship with Jesus with friends, family, and even strangers. May you find, as others have, that their stories stir up your faith for new movements to Jesus among your family, friends, and nation.