Price: FREE
08/15/2016 – 08/19/2016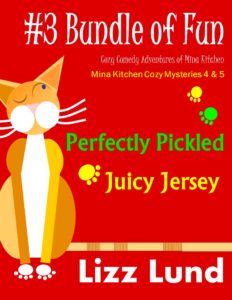 TWO funny Mina Kitchen mysteries for the price of ONE? BOGO!
COZY COMEDY MYSTERIES X 2! WITH 5-STAR REVIEWS! PERFECTLY PICKLED and JUICY JERSEY!
If you're looking for funny novels for women, packed with humor, chatty animals (in the guise of pets) — and recipes — look no further. Lund's cozy mystery series – Books 4 & 5 – are hilarious light hearted mysteries that blend delightful characters and great dialogue with a dash of thrillers and suspense. These cozy comedy capers whip up frothy fiction that's sure to amuse Kindle readers.
BONUS!
Chock full of delightful surprises, both mysteries finish with a bonus section of free recipes, vetted by Lund's chef husband, for your culinary pleasure!