Eighteen Minutes to the Beast – A Nixon Watergate Thriller
By B. J. Thompson
Kindle Price: $0.99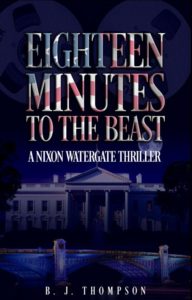 Two audio techs have solved the eighteen minute gap on Nixon Watergate Tape 342.
A Beast that slithers through the streets and halls of Washington DC wants to kill the truth, and two techs want to survive to Tell-All.
Who will get to the Finish-Line first?
The knowledge Ed and Harry possess traps them in a covert world, involving operations as far west as Nixon's La Casa Pacifica in San Clemente, California, and as far east as the Virginia CIA Training Facility at Camp Peary, along the way finding themselves buried alive in a Deep Underground Military Base, meeting men of fame and fortune thought long since dead.
Will the men live long enough to reveal the verbatim Transcript of Tape 342 at the global Press Conference scheduled at The Washington Post?
And if they do, what affect will it have on the survival of the Republic and the American People when such unthinkable secrets are unearthed?
The world will hear those words.
Lives will be sacrificed.
The Beast breathes for the very first time.



Author B. J. Thompson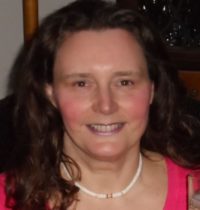 B. J. Thompson is a retired public relations liaison and currently a Calgary, Canada-based freelance editor and author of three literary/historical novels; No More Blood – Epilogue to the life of Truman Capote & In Cold Blood, Eighteen Minutes to the Beast – a Nixon Watergate Thriller, and Sessions – Predator vs. Shrink Who will survive?
The overriding theme in B. J.'s work concerns the process of death, whether it be death of an historical icon, an idea or an event, her works cover those final moments when ultimate truth plays the only role. B. J.'s preferred way to tell a tale is through the Non-Fiction Novel approach; whereby iconic people and/or milestone moments in the past are tweaked and warped ever so slightly to reveal an answer to a long-held mystery or a societal question, folding in fictional characters and locales to more colour the story and give it a rich feel and vibrant atmosphere, to better weave the fantasy within the reality.
B. J.'s upcoming historical epic, entitled AIR, tells of six US Navy sailors in 1941 as they try to hold on to life after the USS Oklahoma capsizes in Pearl Harbor. All six, trapped below the sea, find out there can be far worse things in life than death. AIR is due to be released in late 2019.
Connect With B. J. Thompson