Chasing Forever: A Beachside Romance, Book 1
By Carrie Thorne
Kindle Price: $0.99
Paperback Price: $10.99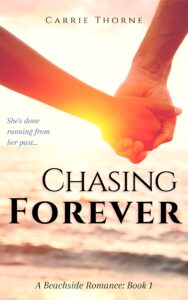 Fall in love with the McAllisters of Seaview, Maine in the 1st of this contemporary romance series with plenty of sweet, sexy, and a dash of suspense.
Resilient Maddy McAllister has worked hard to overcome a rough history. But, when her slimy ex comes back with plans to win her back, destroy the town, and bulldoze her father's fisheries business, she has to face her past head-on, and the stakes are much higher this time.
No stranger to danger, former deep-sea diver Chase Anderson will be there for Maddy every step of the way – if she'll let him. Passion ignites when these 2 reunite and can no longer ignore the sparks between them.
When Maddy's past threatens to crush everything she cares about, her world is turned upside down. And, maybe that's not a bad thing…






Author Carrie Thorne

An avid reader and writer, Carrie has long enjoyed the escapism a great piece of fiction can provide. Carrie is both scientist and artist. She holds a master's degree in healthcare, a bachelor's in geology, and comes from a diverse academic and professional background, which is reflected in the character and quality of her timeless romance novels.
Born and raised in the Pacific Northwest, Carrie enjoys travelling and exploring the outdoors with her husband, their two amazing young children, and their goofy Labrador retriever.
They say you should write the book you want to read – a motto Carrie lives by. She enjoys nothing so well as a curling up by the fire on a cold day with a hot cup of coffee and a great book.
Connect With Carrie Thorne