The Billionaire Princess
By Christina Tetreault
Audiobook Price: $17.95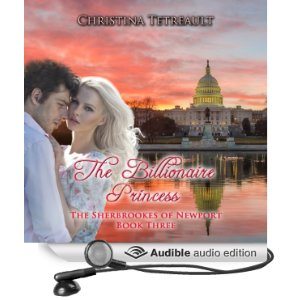 She was raised as an American Princess Following the betrayal of a former lover, Sara Sherbrooke swore off relationships, too afraid she would be used again. Instead she has devoted all her energy to succeeding in politics without relying on her family name. That is until one night in Hawaii with her brother's best friend Christopher Hall. He is a self-made billionaire Technological genius and CEO of Hall Technology, Christopher Hall first met Sara Sherbrooke when he and Jake Sherbrooke were college roommates. While attending Jake's wedding in Hawaii, Christopher is reintroduced to Sara, a beauty who was once way out of his league. But now as the most eligible bachelor in Silicon Valley, the only thing stopping Christopher from pursuing Sara is the thought of betraying his best friend. As they work together to promote a new education initiative, neither can deny the attraction between them. But will their growing romance be worth all of the consequences?
Author Christina Tetreault

I started writing at the age of 10 on my grandmother's manual type writer and never stopped. When I am not chasing my 3 young children or two dogs around I am working on my writing or reading a romance novel. Currently, I am working on book 5 in the Sherbrookes of Newport series, as well as book 2 in my new series Love On The North Shore.
Connect With Christina Tetreault