Accidental Leigh
By Melanie James
Kindle Price: $0.99
Paperback Price: $8.99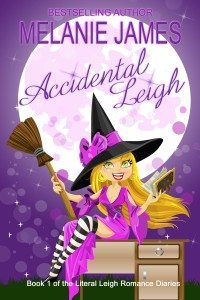 How does a girl become a witch? By accident, of course! Leigh Epstein is a grief stricken and lonely elementary school teacher that is devastated by the brutal and unexpected death of her true love at the hands of a careless writer. She overcomes her grief by taking matters in her own hands and takes up a little romance writing to resurrect her vampire-werewolf book-boyfriend. Leigh gets more than she bargained for when she discovers that every steamy erotic scene she creates is magically reenacted by her family, friends and coworkers.






Author Melanie James
Bestselling author, Melanie James spent 14 years as an IT systems administrator before tiring of the hustle and bustle of the technology world. She's doing what she loves, by writing steamy paranormal, contemporary, and romantic comedy books. Melanie has a Bachelor's Degree from the University of Wisconsin-Oshkosh in Leadership and Development, with a minor in Women's Studies. She is currently working on her Master's Degree in Adult Education at the University of Wisconsin-Stout.
She is married to a wonderful man, who supports her dreams and goals. She has two children, three step-children, a beautiful daughter-in-law, and an adorable grand-baby.



Connect With Melanie James