A Winter Cavalcade of Romantic Dukes: A 6-Book Regency Romance Box Set
By by Abigail Haversham
Kindle Price: $2.99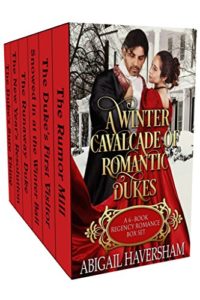 Here are the six new stories you'll find in "A Winter Cavalcade of Romantic Dukes:"
The Rumor Mill. What happens when a handsome Duke and his lovely bride become the victim of scandalous rumors? Find out in this lighthearted, wicked romance!
The Duke's First Visitor. According to Regency era tradition, a family's first visitor of the New Year had the power to bring look and good fortune. Can a comely lady use the tradition to rekindle her romance with a charming Duke after their wedding plans go awry?
Snowed in at the Winter Ball. A handsome Duke finds himself facing a lackluster arranged marriage. Will a sudden burst of bad weather allow him to marry the love of his life instead?
The Runaway Duke. Wedding plans become overwhelming for a dashing Duke and his would-be bride in this romantic romp. Can their romance be saved when a bachelor friend talks the Duke into a last-minute romantic romp?
The New Year's Resolution. Vows to get married are often part of resolutions for the coming year. This delightful romance offers a fun twist on this timeless tradition!
The Duke's Sure Thing. A Duke whose best friend loves gambling entices him with a lucrative proposition. But the Duke's intended loathes gambling and considers it an evil vice. Will the Duke choose love or lucre?



Author by Abigail Haversham
Abigail Haversham has written six #1 Amazon Bestsellers in Historical Christian Romance.