The First Universe in Flames Trilogy (Books 1 to 3): Earth – Last Sanctuary, Fury to the Stars & Destination Oblivion (UiF Space Opera)
By Christian Kallias
Kindle Price: $4.99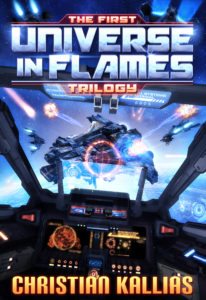 Limited Time Special Launch price (80% off) – 3 books for only 0.99$! Returns to full price on May 8th.
I am Fury. Evil has followed me to Earth. I shall Protect this World until my Dying Breath.
When the Obsidian Empire obliterates the Star Alliance with the help of the Zarlacks, an old evil race long thought extinct, the universe is set ablaze. The last survivors are forced to make a blind jump beyond the outer reach of the charted universe, to a world teeming with life: Earth. The fleet's arrival inadvertently alerts their enemies to the presence of sentient life in that part of space, resulting in a swift and devastating invasion of the blue marble.
Under the guidance of the Olympian goddess of Love, Aphroditis, Lieutenant Chase Athanatos learns of his origins and must race against time in a daring attempt to save Earth, their Last Sanctuary.
With Earth now thrown at the center of the conflict, the newly formed Earth Alliance struggles to keep the enemy at bay. Desperately outnumbered, Chase and his friends must wage one battle after another while seeking new allies to survive.
When it becomes clear that his Fury powers are awakening, Chase must face his inner demons and learn to control them or he could very well destroy the universe he has sworn to protect. Can his Fury heritage and unwavering determination hold the key to change the course of everyone's destiny?
The Trilogy edition contains the first 3 books of the Universe in Flames saga: Earth – Last Sanctuary, Fury to the Stars and Destination Oblivion in one eBook. This version contains the latest edits and proofreads from the series with a new cover.



Author Christian Kallias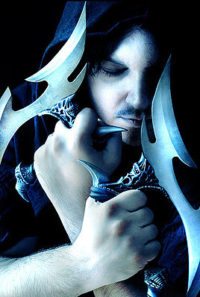 Christian Kallias was born in Geneva, Switzerland. As a teenager, he was forever imagining stories, enjoying video games, and creating various art projects. With his sight always set towards the stars: his novels reflect many of his favorite things, like Wing Commander, Star Wars, Star Trek, and Babylon 5.
Christian's utopian aspirations for a better world, where humanity shines and evolves towards a higher level of civilization, often find their way into his stories.
As his surname suggests, he has Greek roots and often dreams of life in Greece. The rest of the time, he plots space operas and fantasy stories at home in Switzerland. He lives with a cat, Daisy, who has prominent fangs and is nicknamed Vampirella.
Subscribe to Christian's spam free email list and get the free & exclusive Universe in Flames book DAMOCLES FALL: http://bookhip.com/DPRBLX
Check Christian's website for news, blog posts and giveaways: http://www.christiankallias.com
Connect With Christian Kallias