Project Chrysalis: Gestation
By John Gold
Kindle Price: $0.99







Facing Death itself, conducting dark rituals, and using forbidden magic? Being sent to hell is not something that 12-year-old Anji ever expected from a government orphanage program set in a VR fantasy RPG Chrysalis. Betrayed and fueled by homesickness and revenge, he will go through hell to face the things hidden in the darkest corners.






Author John Gold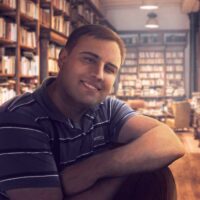 My childhood can be simply described in one word: rebellious. Every day, my parents would want me to go outside and play with the other kids. But no. I rebelled. Instead of listening to my mom and dad about getting exercise and some fresh air, I stayed inside doing the most rebellious thing I could think of to exasperate my parents: read. Being an inquisitive child, I spent days reading books and encyclopedias.
I called it expanding my horizons.
My parents called it being lazy.
The first computer in my life appeared when I entered university. It brought entirely new worlds to me. After classes, I would search through breathtaking stories describing unseen worlds, their histories, and characters. The most lasting impression for me was the Fallout series.
I remember everything as if it was just yesterday…
At 22, I went through a pre-midlife crisis. I was finding out my place in the world, trying different jobs and directions for life. Restaurants, websites, freelance, ghostwriting — everything I did, I gave it my all. Life was like a game to me: you earn resources and gold and spend them on armor and equipment.
At the end of 2013, I read my first LitRPG book. I read all of the stories from the first LitRPG wave in Russia. It was a revelation! The two things I liked the most, internet gaming and books, were now seamlessly combined to produce heroic stories. Needless to say, I became a fan of the genre. It was like reading and playing at the same time, a game you could only dream of!
I was full of emotions and energy and purely inspired. I had so many things to say and write that eventually I put pen to paper. The story just wrote itself: a world of mystery, elaborate plot twists, and devious characters. No free hugs, no super luck, no powers and definitely no magic for free. That was the book I ended up writing.
If I'm being totally honest, sometimes I cried when I wrote the traumatizing and dramatic life experiences of Anji. I was with him, side by side, and I felt his pain as if it was my own. And I wanted to share our story with the world.
I am in awe of how fast Chrysalis has been read by readers around the world. I'm forever grateful to the people who inspired me to keep writing and for those that said I should just put a cork in it!
I'd like to thank the Litworld team for doing an amazing job at promoting my book. None of this would have been possible without you guys.
Chrysalis is only beginning, and the world is infinite and terrifying. In order to keep up, follow the links below:
https://www.facebook.com/project.chrysalis.series/
https://www.instagram.com/project.chrysalis.series/
Connect With John Gold