Grace of Gratitude Journal: Experience Greater Happiness, Blesssings and Deep Spiritual Transformation Through Journaling Daily Gratitudes (An Inspirational Self-Help Guide)
By Deborah Perdue
Kindle Price: $3.99
Paperback Price: $14.95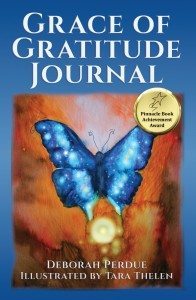 "Grace of Gratitude is more than a journal. It's about so much more than appreciation and journaling. It is an inspirational, self-help, doorway to experiencing greater gratitude, true peace, and a deepening spirituality! This book is essential to harnessing the #1 secret that leads to expanding happiness and joy!"
-Kimberley Bowden, Sure To Love Books (Review)
An inspirational, self-help, guide, and journal to assist you in incorporating the practice of daily gratitude's, so that you may reap the many benefits of doing so!
As many now recognize, gratitude is an simple, yet powerful spiritual practice, that is often attributed to increased blessings, a greater sense of contentment, expanded abundance and improved opportunities in love, business, and in our personal and spiritual lives. YES, INCORPORATING AN ATTITUDE OF GRATITUDE IS REALLY THAT POWERFUL!
Indeed, you can harness the power of gratitude and enjoy improved mental health, superior joy, and more peace than ever before!
The Grace of Gratitude Journal is the perfect tool to inspire you to incorporate gratitude into your daily life and harness all of it's amazing benefits. This journal was written and designed to beautifully motivate and uplift you while you discover the many blessings of increasing gratitude, happiness and greater well-being.
The Grace of Gratitude Journal is an effective and stunningly beautiful way to begin a bliss filled spiritual journey through journaling.
Filled with exquisite, inspiring quotes, and stunning art work, each page prompts the reader to ponder something to be grateful for each day. The author shares inspired snippets from her own gratitude journals throughout the years. Deborah's verses are poetic in prose and magnificently accompanied by the brilliant illustrations of Tara Thelen and interspersed throughout.
Gratitude is an esteemed spiritual practice. Start today. Begin transforming your life and living every day on a deeper level and in a more meaningful way. SCROLL UP AND GET YOUR COPY NOW.
Not only for the novice, the Grace of Gratitude Journal is also for those already familiar and experienced at the spiritual practice of feeling gratitude in his or her life.
Let the Grace of Gratitude Journal assist you on your journey of self transformation. Awaken to joy and bliss!
SCROLL UP AND GET YOUR COPY NOW.



Author Deborah Perdue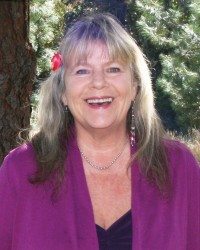 Deborah Perdue, author of Grace of Gratitude Journal, teaches workshops, classes and facilitates retreats on the topics of gratitude, and bringing more joy and peace into our lives. She has been a licensed practitioner at the Centers for Spiritual Living since 2007. She graduated Cum Laude from Sonoma State University with Bachelor degrees in Creative Writing and Studio Art.
Connect With Deborah Perdue