Price: FREE
09/20/2015 –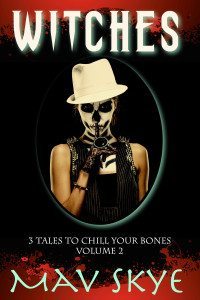 In Volume two of 3 Tales to Chill Your Bones, WITCHES come out to play…
Smashing Roxy
Roxy, a gothic punk witch, goes on a killing spree on her favorite night of the year. When she comes across ghostly children whom she can't catch, she follows them to a deserted house where she meets The Reaper.
Witch
Amy discovers her infant sister is a witch and her mother must be protected. Amy's new best friend, Jules, knows just what to do with a witch. She even brought a butcher knife from home. Hmm…wonder what that is for?
Sacrifice
Every night, Matilda's ghostly body is hunted down and burnt by the townsfolk. One day, Matilda fights back, balancing the scale of justice. Will her soul finally be free?