Price: FREE
10/04/2015 – 10/08/2015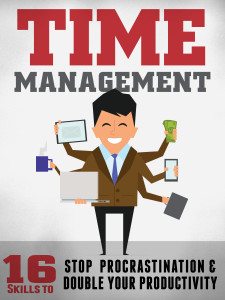 Are you a procrastinator?
Do you get easily distracted or find "busy work" to avoid what you're actually supposed to do?
Would like to learn how to manage your time so you get more done in less time?
… Then this book is a must read for you!
Time Management contains real life success stories, advice from experts and science-backed research. We include actionable steps that you can implement into your daily routine right away. Plus, we cut out the "magic formulas" and "secret tricks" that most books just copy out of bland, light-hearted, fluffy women's magazines.
With this unique combination of information and actionable steps we can GUARANTEE that you stop procrastination and double productivity.
By the time you finish this book you will be fully equipped to take back control of your life and to transform yourself into the best you that you can possibly be, simply by working smarter not harder.
Here's some highlights of what you'll learn:
The #1 Reason Why You Procrastinate
Why Time Management Is So Essential
Simple (But Powerful) Ways To Double Your Productivity
How To Unleash Your Confidence in Seconds
Productive Habits That Stick
BONUS: The Most Common Mistakes And How To Avoid Them
Plus, you'll get the Exclusive Simple Self Improvement Bundle – 100% FREE!
With your purchase comes our Kindle Best-Selling eBook "Super Leaner: 5 Steps To Master Any Skill In 20 Hours" to help you stay committed, focused and motivated. This tool is perfect for people who just need a little push to keep them going