Price: FREE
08/01/2017 – 08/02/2017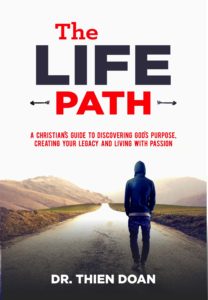 God wants more for you than this!
Something has to change. You're stuck in a rut. You've been wandering and drifting aimlessly through life. You're tired and frustrated.
You need a change. A breakthrough. You need something to wake you up. You need a something to help you discover your purpose and inspire you to live your life with passion again.
This book may just be the catalyst you are looking for.
In The LIFE Path, you will discover a proven system that has helped hundreds of Christians just like you get unstuck and get back on track. In this inspirational and practical guide, you will discover the powerful and life-changing biblical principles of The LIFE Path.
You will learn how to implement the four components of LIFE:
L = Legacy
I = Intentionality
F = Focus
E = Execution
This inspirational and practical book will help you:
– find your specific path
– discover your purpose
– create a worthy legacy
– live with intentionality
– focus on what's really important
– build life-long healthy habits
– live with passion again
– experience God's abundant life
Do something today that your future self will thank you for.
Get this book. You'll be glad you did. You have nothing to lose. This could just be the catalyst God uses to change your life.