Price: FREE
02/13/2018 – 02/17/2018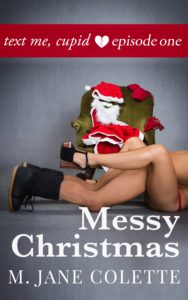 Meet Will and Florence. He's freshly divorced and in denial. She's twice-burnt and prickly. They're a terrible idea. They know this. But every time their eyes meet, their clothes come off.
Messy Christmas is the first novella in the TEXT ME, CUPID series: a steamy love story in four episodes, featuring a hero and heroine with a painful past, a complicated present, and… well… what's going to happen in their future?
Experience their unique, hilarious, and heart-wrenching love story through 2018 with MESSY CHRISTMAS (December 2017), DELAYED VALENTINE (February 2018), BITTERSWEET HALLOWEEN (August 2018), and SAVING CHRISTMAS (November 2018).