Price: FREE
09/24/2017 – 09/28/2017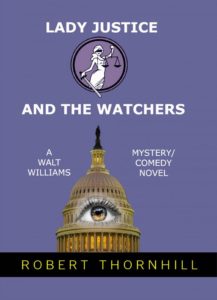 Suzanne Collins wrote the Hunger Games, Aldous Huxley wrote Brave New World and George Orwell wrote 1984.
All three novels were about dystopian societies of the future.
In Lady Justice and the Watchers, Walt Williams sees the world we live in today through the eyes of a group who call themselves 'The Watchers'.
Oscar Levant said that there's a fine line between genius and insanity.
After reading Lady Justice and the Watchers, you may realize as Walt did that there's also a very fine line separating the life of freedom that we enjoy today and the totalitarian society envisioned in these classic novels.
Quietly and without fanfare, powerful interests have instituted policies that have eroded our privacy, health and individual freedoms.
Is the dystopian society still a thing of the distant future or is it with us now disguised as a wolf in sheep's clothing?