Price: FREE
05/20/2015 – 05/24/2015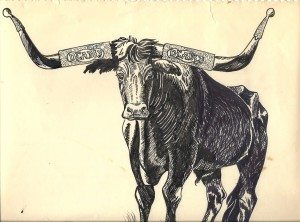 4.6 stars with 297 reviews, A sequel in late 2016
Get lost in this western epic of adversity, despair and triumph At only sixteen and lost in the world, Grady discovers a partner for life in a newborn Texas Longhorn bull calf that captures his heart. After discovering their completely unique pairing, the two partners are hired by the beautiful ranch owner Cecile to drive seventy rare and extremely valuable Herefords from California to Texas. With the fate of Cecile's ranch in their hands, Grady and his partner set forth on a dangerous journey full of extreme wilderness, nature's wrath, injuries, and illness men in order to get these prized cattle to their distant destination.
Deadly Deadly is an exciting Western that details the hardships encountered on trail drives in the 1800s. Combining a mixture of unique animal and pet relationships with growing romances, this exciting novel tells a truly original story among a backdrop of harsh and extreme conditions. Crafted with an enormous passion, this amazing story pits an eclectic cast of characters against the unforgiving elements and the evils of men. A one-of-a-kind story, readers cannot afford to pass up this fantastic novel.
With a Texas Longhorn as one of its main characters, Deadly Deadly stands out against the homogenous backdrop of today's fiction. Inspired by a lifetime of animal training, author M. J. Vigna combines the priceless animal knowledge gained over a long career with an exciting Western setting to create a captivating, character-driven story that is as gripping as it is heartfelt. Whether it's the loveable characters, unique relationships, budding romance, or decidedly Western exploits, the novel possesses something for everyone. Expertly written with authority and passion, this remarkable story creates something stunning that will capture the hearts of every reader.