Price: FREE
10/05/2015 – 10/09/2015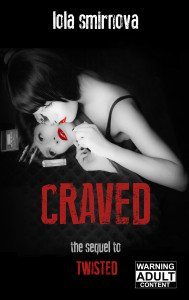 The highly anticipated sequel to Twisted – Craved is the second book of the Twisted trilogy – riveting and dark Realistic Fiction with a touch of Thrilling Suspense…
Having been to hell and back, the eager sisters from Ukraine – Natalia, Lena and Julia – decide to retire from selling sex and walk the straight and narrow path back home. But when an old friend calls them with an opportunity to make buckets of 'easy' money in South Africa, they find it impossible to refuse.
Return to the night life of the entertainment business brings along all the old familiar temptations – alcohol, drugs, prostitution…
Can the girls resist their vices and stay together? Or will this industry destroy their sanity and their family?
Inspired by real life events, Craved is a fascinating story of addiction, survival and the art of making a living in the sex trade.