Price: FREE
10/01/2015 – 10/04/2015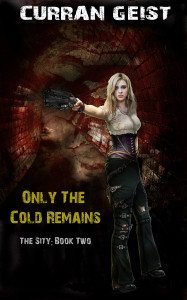 I was made for this… I was made a killer…
Victor's fate hangs in the balance as he awaits the games of the Death Night. The boy will have to face his fears if he is to overcome the trials of the arena and claim his destiny. Revelations about the past threaten to derail everything Carina has achieved in the colony. Will she hide from the truth or will she protect the ones she most loves?
In this dystopian thriller, humanity's existence reaches a crossroads. The streets of the metropolis are overrun with alien troops on the hunt for escaped slaves. Deep in the underbelly of the Sity, lurk shadows of a worse horror. With Medtronik's hold on the city of sin growing tenuous, the only solution to the Kuljik's "human problem" is extermination.
The lines between good and evil continue to be blurred in the struggle for survival. For the road home is long and bloody. When the forces of humans and Kuljiks clash, only the cold remains.
This is book two in THE SITY series by Curran Geist.