EMERGENCE: The Journey Begins (Prequel to The Destiny Saga)
By T. M. Evenson
Kindle Price: $0.99
Paperback Price: $8.99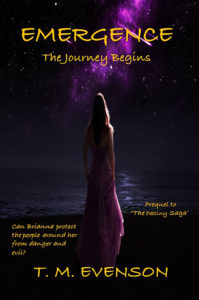 Emergence is a YA coming of age story of psychic phenomena of one young girl's life experiences. Brianna Burrows knows she is different. Maybe even damaged. She sees things others do not. Brianna's life changes drastically from a young age, where she discovers who she is and what her destiny will be. As she emerges into young adulthood, even with self-doubts, Brianna learns she can be strong and take command of her life and her abilities, even when there are times she must learn to be resilient as friends fear her and authorities shirk away from her.
Emergence takes the reader along with Brianna on her journey as she experiences adventure, intrigue, fear, and doubt, mixed with conflict, heroism, and heartache. Two questions remain constant in her mind: Can she keep her family safe from harm? Will she be able to save others? Her mantra remains Family First!



Author T. M. Evenson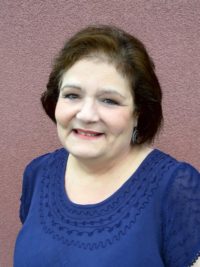 T.M. EVENSON grew up in St. Paul, Minnesota. She first attended SCSU in St. Cloud. After a break from school, while working a full-time IT job, and raising two children, she completed her BA degree in Organizational Management and Communications at Concordia, St. Paul.
Theresa loves reading. As a child, she wrote her own stories, and read many books, which escalated during grade school when Bookmobile Libraries on wheels became all the rage. Theresa went every two weeks to check out more books. She started with Nancy Drew, The Hardy Boys, autobiographies and then moved to her home Encyclopedia Britannica volumes earning about science, the stars, famous people and much more.
Always the dreamer, Theresa believed that man would one day transcend in technology and science to reach above the stars, beyond to the moon and into the vast universe. When she was a teenager, NASA did make it to the moon. Her dreams were coming true.
Connect With T. M. Evenson