The After Effect
By Rose Shababy
Kindle Price: $3.99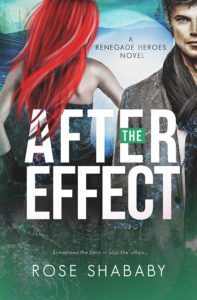 Maximum Ride meets Sin City in The Renegade Heroes series…
Kasey and his friends have kickass abilities. Once determined to help society, their last battle left Kasey almost dead. Disillusioned, they leave the city in search of peace and quiet.
But Kasey has a secret.
Ever since he escaped the cold fingers of death, strange things have been happening to him. His powers are running wild, and he's starting to lose control. It doesn't take long for his girlfriend, Blue, and the others to notice.
In the lush forests of northern Idaho, they meet a new hero who reveals the mystery of Kasey's strange behavior, creating more questions than answers when she offers a terrible solution none of them can accept.
Worse still, Kasey will soon come face to face with the nightmares of his past: a new villain with frightening abilities.
Will the heroes find the strength to defeat their newest threat, and face the consequences of their mistakes? Or will Kasey be forced to make the ultimate sacrifice?



Author Rose Shababy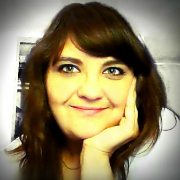 Rose Shababy lives in eastern Washington State. She grew up in the Northwest but swears she's going to move to warmer climates someday. She's claimed this for over 20 years, however, and has yet to move more than 75 miles away from her mother.
Rose has a deep love of all things Star Trek and yearns to travel the heavens, as well as an intense desire to be bitten by a radioactive spider. Unfortunately she sucks at science and math so she hasn't been able bring her dreams to life, instead living vicariously through books, comics, television and film. She hopes to someday make a million dollars so she can afford to buy her way to the international space station, but she'd settle for being able to fly around the world and leap tall buildings in a single bound.
Rose also loves to cook and worked for years in a gourmet Italian grocery and deli where she learned to hone her skills. She often prepares culinary masterpieces, but fervently wishes the dishes would wash themselves. Especially now that her dishwashers/children are grown and no longer live at home.
Rose likes to use her free time wisely. For instance, she likes to daydream, will often read for hours until she falls asleep on the couch with an electric blanket and a warm tabby cat curled up on her hip, as well as spending cozy weekend days watching Syfy movies like Sharknado and Mega Piranha.
If Rose were a cartoon animal, she'd prefer to be a wise old owl or a sleek and sexy jaguar, but in reality she'd probably be a myopic mole with coke-bottle glasses.
Connect With Rose Shababy