Adventurers of Fortune: Rescue Is Such a Strong Word
By Cooper J. Knight
Kindle Price: $0.99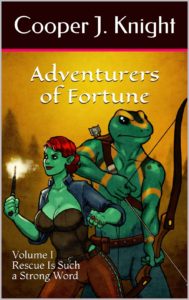 An irreverent love-letter to the high fantasy genre and classic role-playing games alike, Rescue Is Such a Strong Word is the first entry in the ongoing Adventurers of Fortune series of stories and introduces the cheerfully lurid and savvy sorceress, Em, and her amphibious business and travel partner, Fernando, while deftly building the unique-but-familiar world that they employ themselves in. The pair's job this time is the should-be-mundane task of returning a regional nobleman's daughter—strictly for the reward, of course—but a hot-headed knight has them in his grips, there are creatures and competition around every corner, something about the situation as a whole seems a bit off-kilter, and, moreover, troubles from Em's audacious and unconventional love life are coming to a head in the middle of it all.





Author Cooper J. Knight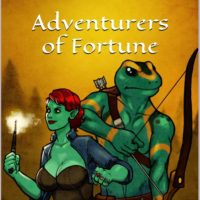 Cooper J. Knight lives in the northeastern United States where he drinks coffee by the gallon and creates anything he can. This includes not just prose and graphic novel scripts, but also an ever-growing collection of half-finished music that he's rarely satisfied with. He lives with his lifelong companion who puts up with his nonsense much more than she should.
Connect With Cooper J. Knight